Help Us Help The Homeless
At Django Coffee Co. the issue of homelessness is very important to us and so for the months of April and May we have decided to donate 50p  to The Big Issue North Trust for every bag of coffee we sell. All you have to do is use the code #thebigissue at the checkout.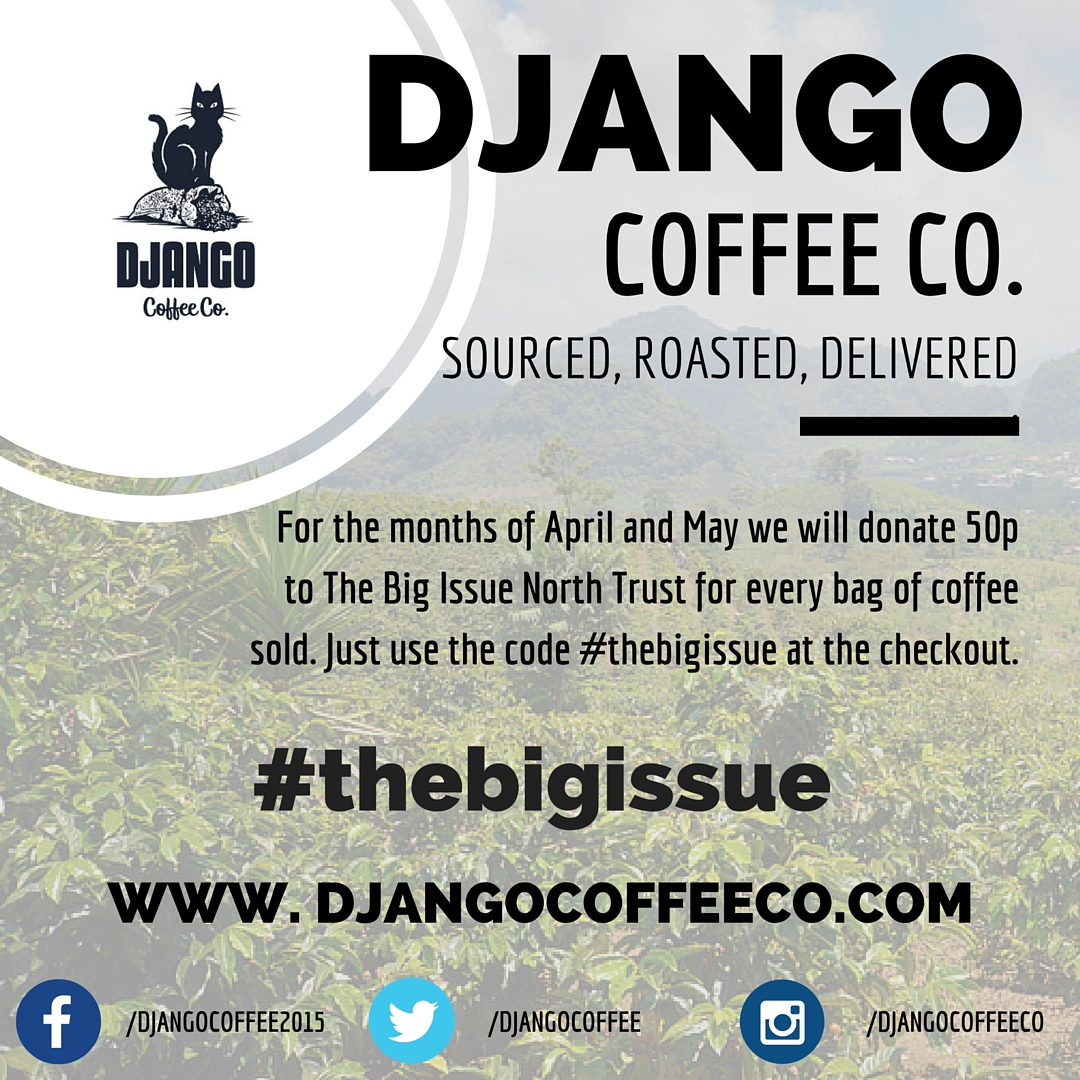 Homelessness in the UK
Homelessness in the UK is on the rise and since 2010 the number of people living on the streets has increased by 33% with no sign of slowing down. [1] It is estimated that by 2020 nearly one million men, women and children will be homeless unless the government takes action and addresses this crisis which has been described by the Labour Party as a "test of our basic humanity."  [2] The homeless charity Shelter has published statistics that claim 117 families lose their homes every day in Great Britain, which is a shockingly high number. 
People are effected by homelessness all across the UK. In Manchester, the local council has seen nearly twice as many people sleeping rough as there was last year. There are many areas of Manchester where people have erected tents to sleep in creating mini shanty towns. [3] Colin Morrison, an outreach worker for Manchester City Council, explained in an interview with the Guardian that the recent impact of welfare reform,  a change in conditions of the benefit system  and introduction of the bedroom tax have all had a dramatic impact on the increasing numbers sleeping rough in Manchester. [3]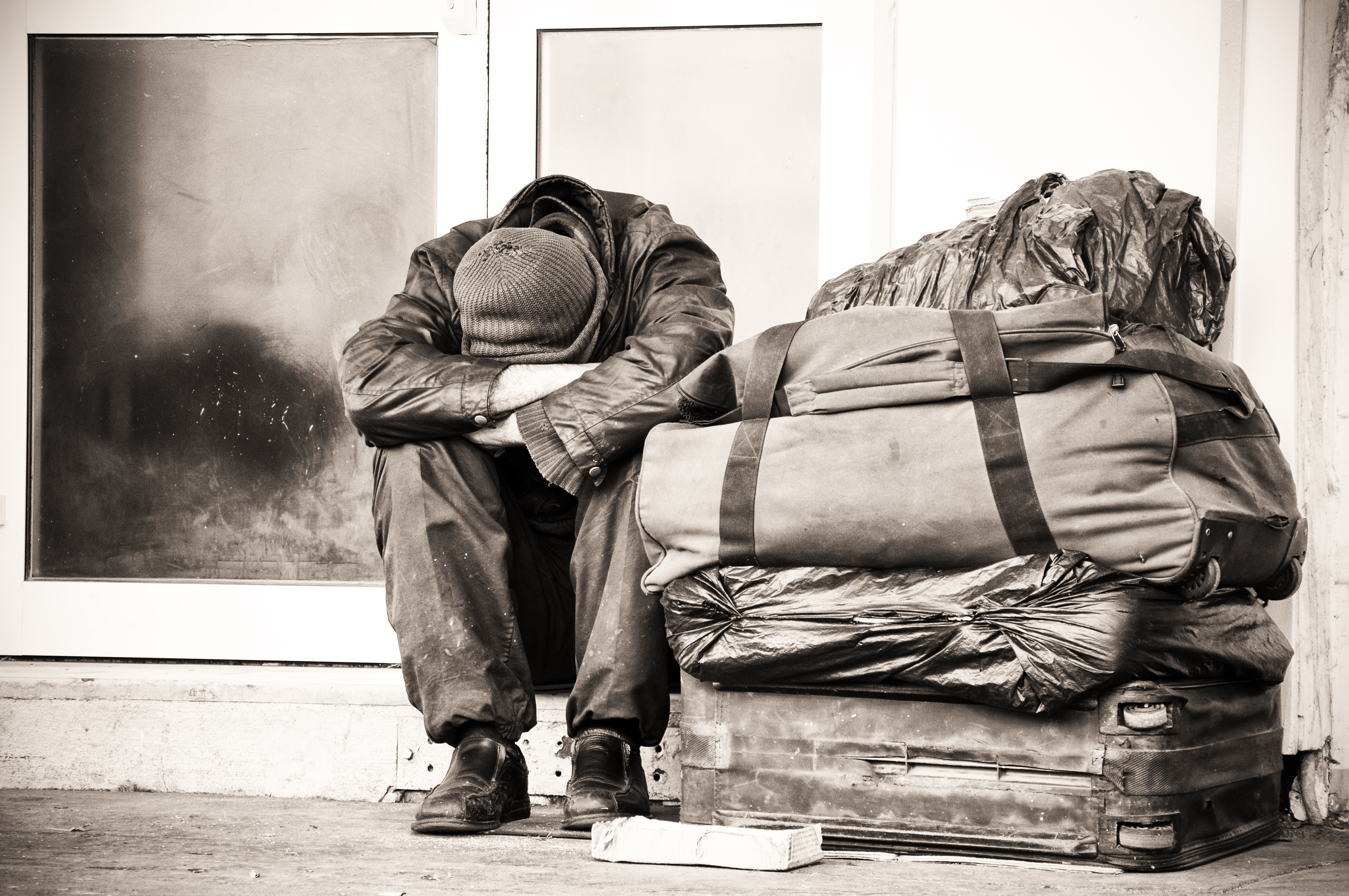 Why Do People Become Homeless?
Many people take the view that homelessness is the result of an individual's personal failings but this is far from the truth. Homelessness can happen to anybody for many reasons and can occur overnight or over a period of many years. The reasons for homelessness can be divided into two categories. The first category is personal reasons, these include relationship problems, a lack of social support, build-up of debts, mental health issues, drug and alcohol addictions, sexual and physical abuse and the effect of leaving institutions such as the armed forces. The second category is structural reasons which are a result of unemployment, poverty, lack of affordable housing, housing policies and closer of rehabilitation centres and hospitals. [4]
The Big Issue North Trust
The reason we chose to donate to The Big Issue North Trust is because it is an amazing charity that provides services and support to the vendors who sell the big issue. The trust helps those people that are not in touch with statuary services for whatever reason. The help and support that they offer includes helping to find permanent accommodation, provide access to drug and alcohol treatment, health services, English language courses and other training to help people get back on the right track. By selling The Big Issue the vendors are given the opportunity to earn an income and to also build their self-esteem and improve their motivation. [5] When you purchase one of their magazine you are not only helping others, you are also getting a brilliant magazine full of interesting articles on a variety of topics.
Change Please
The Big Issue is currently supporting a non-profit organisation called Change Please. Change Please works on a similar model to The Big Issue but instead of selling magazines they sell coffee. They give the opportunity for homeless people to train and work as baristas, allowing them to develop skills that they can then use in order to help them get back into work and find jobs after a 6 month period. [6] Again this helps develop motivation and build confidence and self-esteem. The coffee is sold from small carts in 8 different locations in central London. The baristas are paid the London Living Wage of £9.15 an hour and the carts are open 5 days a week from 8am until 4pm and run just like any other business. [7] The coffee is ethically sourced and roasted by The Old Spike Roastery based in London with speciality coffee sourced from countries such as Tanzania and Colombia. Change Please are also an environmentally conscious charity and use coffee cups supplied by Vegware which make their cups from renewable materials.  There are plans for Bristol, Manchester, Nottingham, Glasgow and Edinburgh all following suit and getting this financial friendly coffee in the future. [8] 
 
 
 We hope you will get behind us and help us to support The Big Issue Trust. Remember that every bag of coffee we sell in the months of April and May we will donate 50p to the Trust, just use the code #thebigissue at the checkout. If you would like any further information about homelessness and what you can do to help there are some useful links below. :)

 http://www.changeplease.org/

https://www.bigissue.org.uk/

http://www.bigissuenorth.com/

http://england.shelter.org.uk/home

http://www.crisis.org.uk/